Sunday, July 13, 2008 at 03:36PM
My frequent collaborator, Ray Caspio, was contacted by a representative of NOW, the National Organization for Women, concerning a Wonder Woman piece that he had posted on his website. The NOW National Conference: 2008 was coming up, and they wanted to use his Wonder Woman illustration for the cover of their program book. It was decided that a new character needed to be created for this, for rights purposes, and that's where I came in. Ray and I talked about what the costume should look like and what goals we wanted to achieve with it. We wanted to create a new character that had a classic 1940's Golden Age of Comics look, but I wanted to give it a slightly modern twist. Ray had to use his original illustration as a basis for the illustration for NOW, but with a change in the costume and coloring details. The design needed to be an homage to Wonder Woman without being Wonder Woman. I came up with this: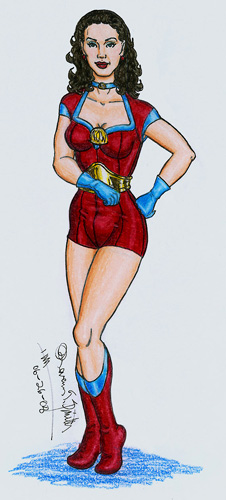 Ray Caspio then used the costume elements that I came up with and transposed them onto his piece, creating what is now the program cover and image used by NOW to promote the conference, where the theme is "No Capes, No Masks, No Boundaries: Super-Women Unite!" The design can be viewed in the Illustration Gallery at Ray Caspio's site.
tagged
Character Design,
NOW,
Prismacolor,
Wonder Woman
in
Character Design,
Wonder Woman